TinyCal 0.12: A New Interface!
TinyCal 0.12b Refreshed in December 2008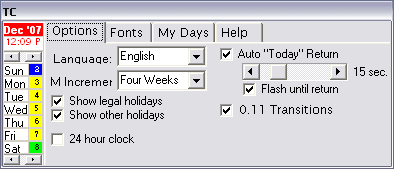 The new expanding-width interface for access to the options. Weekends are shown in green, and legal holidays in red. February 14, in purple, is a user-defined event, and February 12 is Lincoln's Birthday.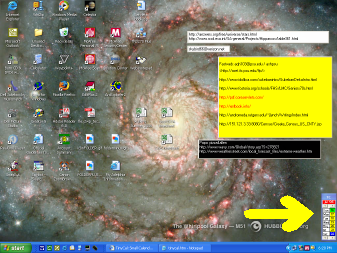 What do you do when you need to know the date, but don't have a calendar around? If you're like me, you'd point your mouse to the clock and wait for the date tooltip to pop up. But that's a waste of time, and doesn't help much if you need to go back or ahead a few weeks. So, I sat down with Delphi and wrote TinyCal.
Displays a calendar week and current time in a small space in an out-of-the-way location
User-definable fonts and colors
Weekends shown in green, current date in blue, major holidays in red, other holidays in fushia, and user-entered events in purple
Point mouse at day and tooltip shows date information, including holiday names and how many days until that date
Buttons to let you look at weeks and months in the past or future, and automatically return to current week after defined amount of time
Drag TinyCal to anywhere on the screen and it remembers the position for next time
Access to setup tabs via right click on date or time labels
Download TinyCal version 0.12b, a 274,432 byte self-extracting executable file updated on December 15, 2008. This refresh corrects the incorrect mouseover display of January 2009's year when stepping by week.


---

TinyCal test version

None available.